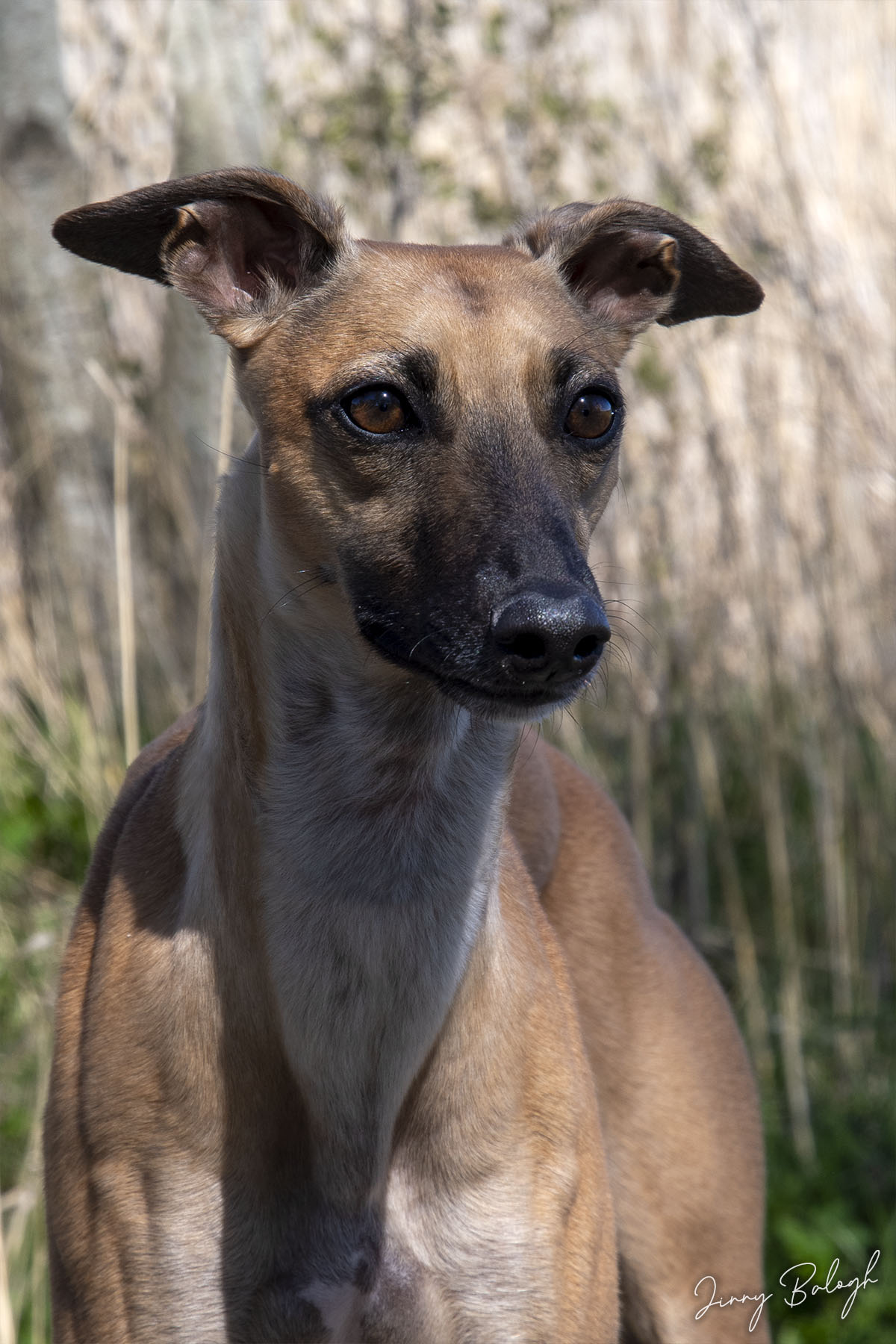 | | |
| --- | --- |
| Call name: | Asta |
| Sex: | Female |
| Born: | 2021-12-10 |
| Sire: | Elektra's Voodo Talk at Kentfield |
| Dam: | Tre Hjärtans Britta |
| Reg. number: | SE70849/2021 |
| Colour: | Fawn with white markings, black mask |
| Height: | 51,8 cm |
| Weight: | 13,7 kg |
| Owner: | Maria Kvist |
| Breeder: | Jinny Balogh, Watch'em (Sweden) |
| | |
| --- | --- |
| DNA-profile: | Embark 2022 |
| Coefficient of inbreeding: | 0% (5 gen), 9% (DNA) |
| Myostatin deficiency: | N/N (clear) |
| Teeth: | Scissors bite, full dentition |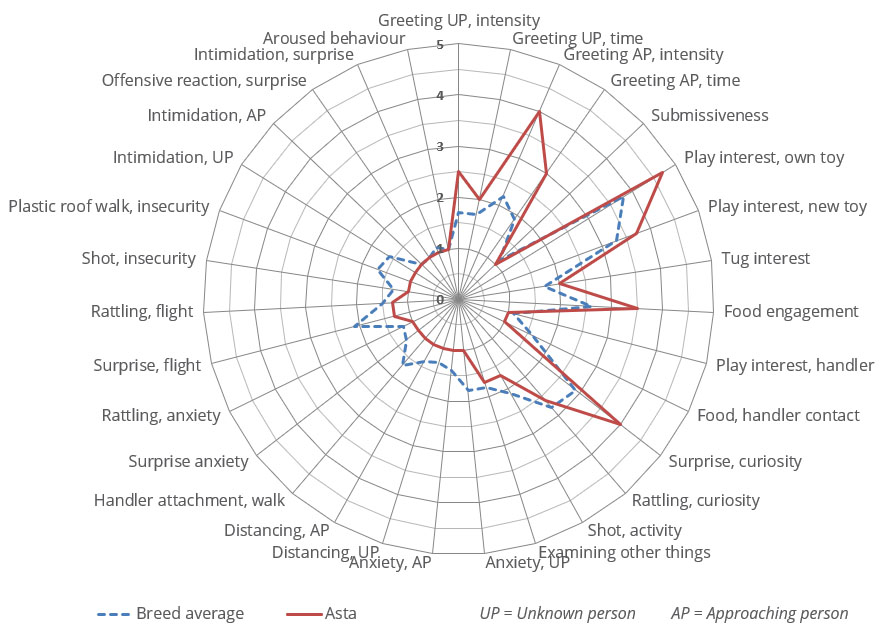 Behaviour and personality description, BPH
Asta did BPH with gunshot at the age of 16 months and 27 days and in the chart you can see her test summary compared to the breed average. I have tried to translate it to English but it is best understood by reading the full protocol (in Swedish) here.
The purpose of BPH is to contribute to increased knowledge about dogs' mentality. It is aimed at breeders and at individual dog owners who wants to learn more about their dog's mental characteristics.
It takes place on a standardized course where the dog gets to experience different situations. The dog's reactions are described and together they give an idea of the dog's mentality and personality. The handler, usually the dog owner, walks the course with the dog and get information along the course from the test leader.
– Translated from the website of SKK.
Borås

320 m
21,38 s
2023-05-13
Roskilde
272 m
19,42 s
2023-04-02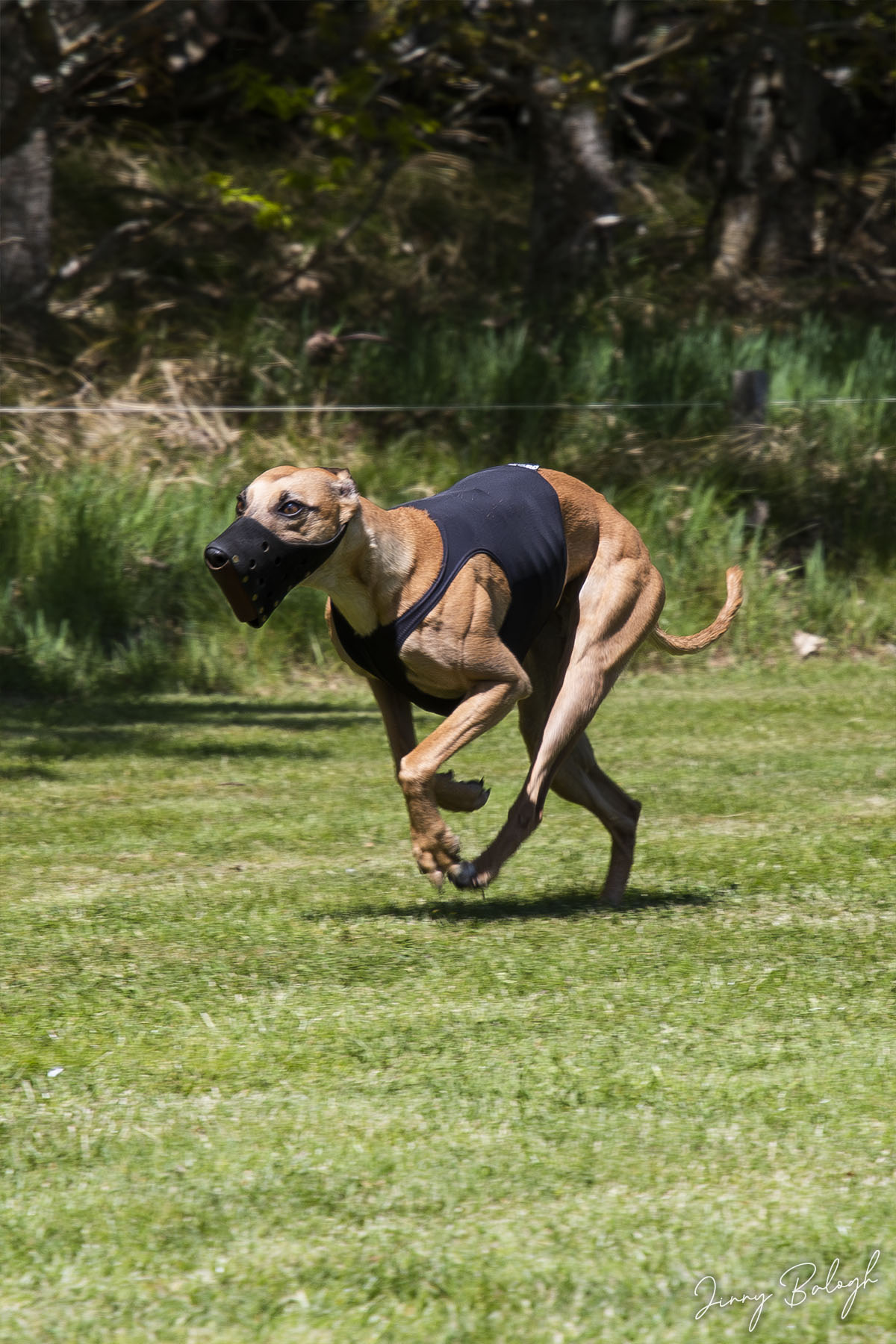 As the name suggests, whippet race is for whippets only (other breeds are welcome at practice) and is a straight race run on grass, ending in a sand pit. The length is around 137,5 m, or 150 yards. The dogs run four at a time in red, blue, white or black shirt and are required to wear a leather muzzle.
On competition day dogs will run two heats determining in which final or semi-final they will participate. The four fastest goes to the A-final, the next four to B-final and so on. Most of the time they are divided into males and females but mixed competitions occur as well. For more information about whippet race in Sweden, visit the official website.
| | | |
| --- | --- | --- |
| Halmstad: | 9,05 s | 2023-05-20 |
| Karlstad: | 9,34 s | 2023-05-27 |
| Date | Track | Type | Final time | Place |
| --- | --- | --- | --- | --- |
| 2023-05-27 | Karlstad | Divided | 9,34 s | B-final: 1 |
| 2023-05-20 | Halmstad | Divided | 9,33 s | A-final: 3 |