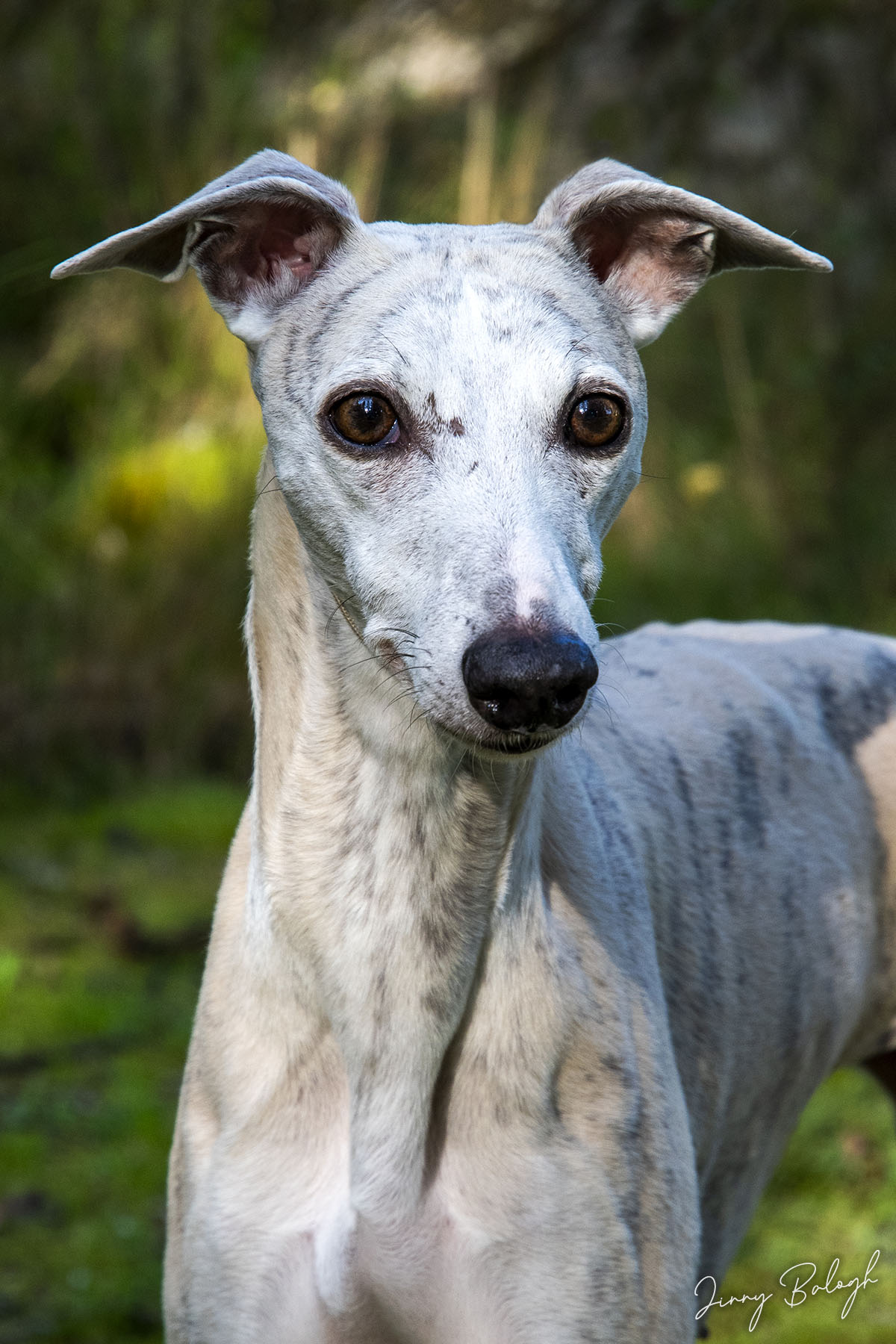 | | |
| --- | --- |
| Call name: | Lucy |
| Sex: | Female (neutered) |
| Born: | 2015-07-10 |
| Sire: | Librium's Perfect Design |
| Dam: | Adagio Sbrisolona |
| Reg. number: | SE44686/2015 |
| Colour: | Blue brindle and white |
| Height: | 49,5 cm |
| Weight: | 13,5 kg |
| Breeder: | Stefan Råghammar, Adagio (Sweden) |
Coefficient of inbreeding:
7,81% (5 gen)
Back:
Arthritis (L7/S1)
Teeth:
Scissors bite, full dentition
Other:
Cancer (peripheral nerve sheath tumor)
Healthy since spring 2018
Lucy is my first whippet that I've had since she was a puppy and she was planned for about a year ahead. I wanted a whippet from that breeder and that female and I was lucky and got it! Lucy is a showbred whippet and was bought just for that – shows. We participated in loads of them in her first two years of life and for my first show dog it went quite well. Simultaneously we practiced whippet race, lure coursing and oval track as well and she had her track license at the youngest age possible of 15 months.
However, 2016 and 2017 were dedicated mostly to shows until August when I found two lumps by Lucy's ear bases. It was first treated as inflammation but they grew quickly so I took her to do a biopsy and the result were malignant cancer in both lumps. My whole world fell. My lovely Lucy, a deadly disease at just two years old. We went to an oncologist to do a CT scan and the results were not promising. The tumors were on their way to surround her ear canals and surgery would make her deaf. I started looking into all possible ways to fight cancer and found a lot in the way of holistic treatment. I decided to try it all; diet, supplements and bioresonance. Lucy also got massage with electrotherapy and got to come to practice and run as she felt like. Her blood work was taken by the vet and since it was all good and she behaved normally I let her live the best life possible. I prepared her food for hours and bought books, documentaries and supplements from abroad. And believe it or not…
After a few months had passed my partner commented that her tumors were smaller. I wouldn't believe it but I looked at some older pictures and realised that they actually were! In February 2018 we did another CT scan and they measured the tumors to be smaller than last time. They kept on shrinking until they were invisible. Nobody would believe something like that could actually happen. It was a miracle, but it was not. It was research, hard work, a precisely calculated diet and of course the support of all people who helped treat Lucy that made her live and beat cancer.
She is my miracle dog and she keeps on proving herself. In 2018 she had her comeback on the track and also won her first race that year. In 2019 she improved herself on all tracks she raced at and won several races and had many podium placements. She started the racing season of 2020 by winning her race. When Lucy is at the track she wags her tail all the time. She used to be a serious dog and very disobedient. When we started training nose work in 2017 she wanted to work as little as possible for her reward but during our course she found out she actually loves to work and that made her light up. I could start having her off leash in the forest and until today she will always come when I call and never wander off. She is happy and crazy and always wants to be included.
Lucy happily works for treats but is, as she has always been, picky about people and only let a handful of them cuddle her. The ones she recognizes she will greet and wag her tail to but that's it. She is also a bit of a bulldozer and will tackle both dogs and people, especially when excited. As many other whippets Lucy loves warmth and will sunbathe on the porch until she pants and she also loves warm, cosy shirts no matter the weather (but she only gets them when it's cold). She is the best children's dog there is and is even stupidly nice; letting them crawl all over her or poke her everywhere without walking away so I have to protect her from her own kindness.
She is a beautiful whippet without exaggerations with nice movement. She never loved going to shows though but at the track she has got so much charisma. Lucy is not like most other racing whippets because she does not chase the lure but rather using it as guidance as she races the other dogs. If she is in the lead she will most times wait for the one behind to catch up and then run just in front of or side by side with them. I know, that is not normal at all… But that is also the perfect way do describe Lucy: Different and a bit crazy with a no-care attitude but still so much kindness.
Since getting diagnosed with arthritis between the L7/S1 vertebrae in spring 2021 Lucy is now retired from racing but live her everyday life just as she did before, without restrictions but with some preventive measures such as a step for getting up on the couch and me lifting her up in the car. Since she is kind of lazy it only took a week or so before Lucy began waiting for me to lift her. With weekly laser and massages she hopefully has a happy and long life ahead of her. ♥t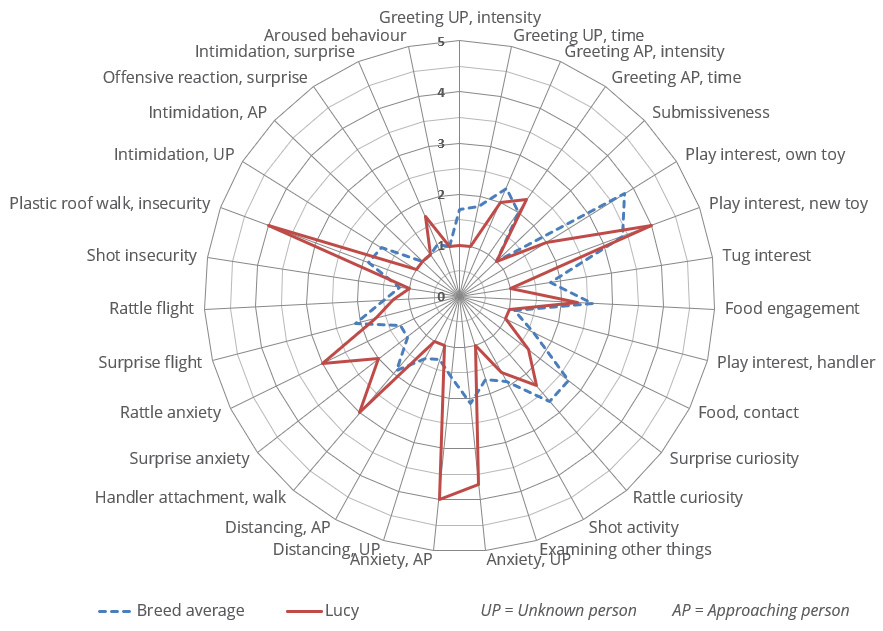 Behaviour and personality description, BPH
Lucy did BPH with gunshot at the age of 12 months and 27 days and in the chart you can see her test summary compared to the breed average. I have tried to translate it to English but it is best understood by reading the full protocol (in Swedish)
here
.
The purpose of BPH is to contribute to increased knowledge about dogs' mentality. It is aimed at breeders and at individual dog owners who wants to learn more about their dog's mental characteristics.
It takes place on a standardized course where the dog gets to experience different situations. The dog's reactions are described and together they give an idea of the dog's mentality and personality. The handler, usually the dog owner, walks the course with the dog and get information along the course from the test leader.
– Translated from the website of SKK.

Alingsås
301 m
21,50 s
2019-08-25
Hamburg
350 m
26,40 s
2020-08-16
Roskilde
272 m
19,85 s
2019-08-17
Borås
88 m
7,10 s
2023-09-03
320 m
22,99 s
2019-11-09
492 m
37,08 s
2016-11-19
Simrishamn
310 m
22,48 s
2019-11-02
Åkersberga
320 m
23,00 s
2020-07-12
515 m
39,20 s
2018-07-27
Örebro
299 m
21,81 s
2019-10-27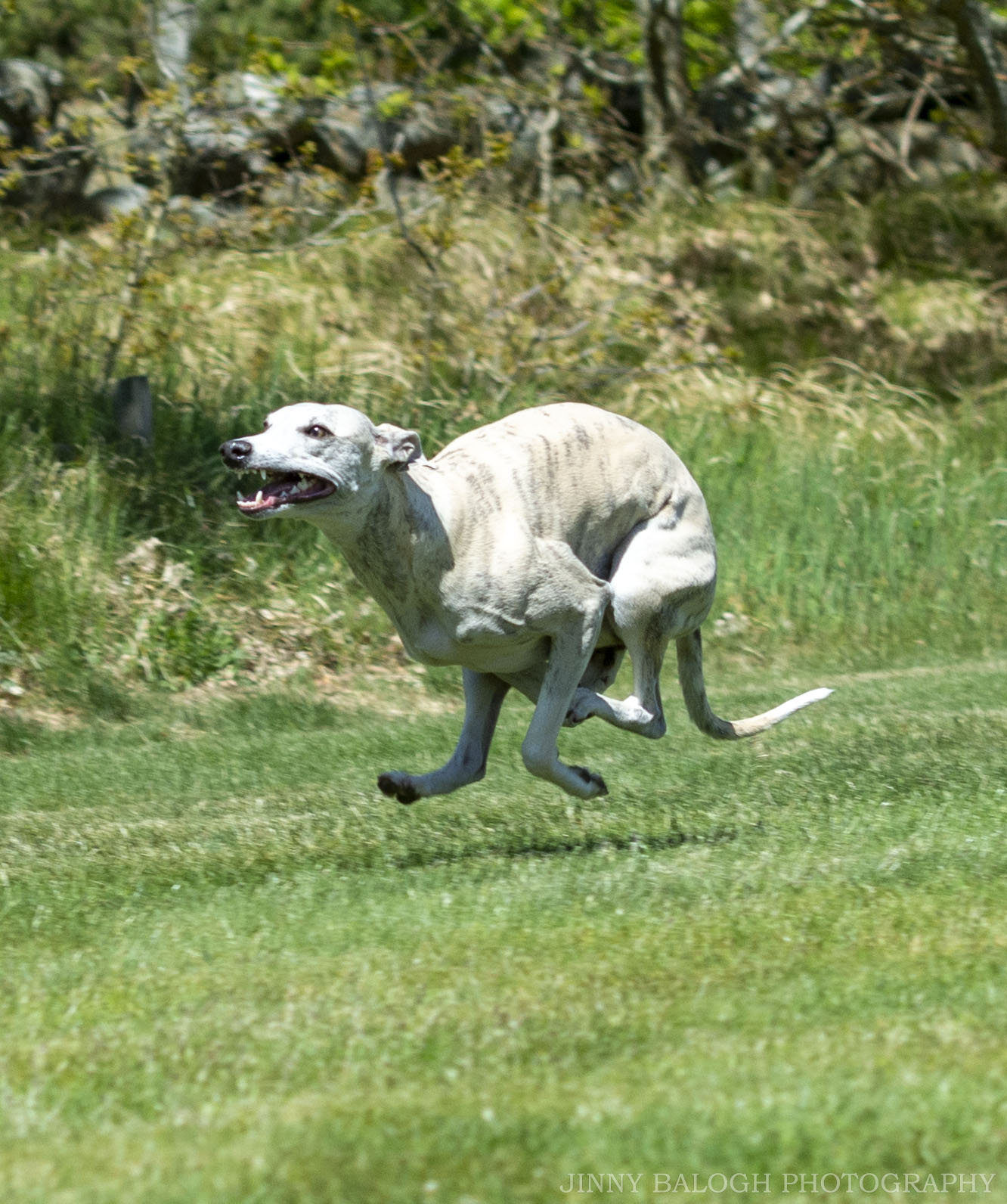 As the name suggests, whippet race is for whippets only (other breeds are welcome at practice) and is a straight race run on grass, ending in a sand pit. The length is around 137,5 m, or 150 yards. The dogs run four at a time in red, blue, white or black shirt and are required to wear a leather muzzle.
On competition day dogs will run two heats determining in which final or semi-final they will participate. The four fastest goes to the A-final, the next four to B-final and so on. Most of the time they are divided into males and females but mixed competitions occur as well. For more information about whippet race in Sweden, visit the official website.
| | | |
| --- | --- | --- |
| Halmstad: | 9,93 s | 2020-08-01 |
| Kalmar: | 11,05 s | 2016-07-16 |
| Karlstad: | 10,53 s | 2017-06-10 |
| Norrköping: | 10,32 s | 2018-08-04 |
| Date | Track | Type | Final time | Place |
| --- | --- | --- | --- | --- |
| 2020-08-01 | Halmstad | Mixed | 10,00 s | H-final: 2 |
| 2019-08-31 | Halmstad | Divided | 10,01 s | E-final: 2 |
| 2017-06-10 | Karlstad | Divided | 10,77 s | G-final: 2 |
| 2016-09-24 | Halmstad | Derby | 10,21 s | C-final: 4 |
| 2016-07-16 | Kalmar | Mixed | 11,12 s | K-final: 4 |
| Date | Location | Type | Points | Faults | Time | Place | Award |
| --- | --- | --- | --- | --- | --- | --- | --- |
| 2017-07-09 | Örkelljunga | ORT, bay leaf | – | – | – | – | Approved ORT |
| 2017-04-24 | Halmstad | ORT, eucalyptus | – | – | – | – | Approved ORT |
Date
Location
Type
Class
Judge
Quality
Placement
2023-11-03
Växjö
International
Veteran
Rony Doedijns
Excellent, CK
2
Bitch of correct size, 8 years old. Typical in size and proportions. Nice neck, top- and underline. Well developed body. Correct in front and rear angulation. Good feet. Good croup, tailset and carriage. Nice head profile with dark eyes, good pigmentation, good bite, typical ears. Lovely condition. Easy mover. Very well presented.
2023-09-02
Borås
Unofficial
Veteran
Marcus Gisslén
HP
1, BOB, BOG-2, BOB veteran, BIS veteran
Nice silhouette, well balanced. Beautiful head and expression, scissors bite. Nice top- and underline. Breed typical angles. Substancial body, good feet, well muscled and excellent fur. Moves very well. A really nice veteran.
2018-07-29
Strömsholm
National
Open
Bitte Ahrens Primavera
Excellent
–
3-year-old bitch of excellent type. Somewhat big but still elegant. Beautiful head and expression, correct bite, excellent ears. Good neck, well angulated shoulder, a bit short upper arm. Beautiful top- and underline, strong hindquarters. Moves efficiently from the side.
2017-07-08
Tvååker
National
Intermediate
Åke Cronander
Excellent
–
Very good wholeness. Substancial young bitch with very good head and expression. Nice neck, good body. Somewhat long loin, OK topline, correct angulations. Good legs and feet. Moves well all around.
2017-07-07
Tvååker
Interational
Intermediate
Knut Blütecher
Excellent
–
Feminine and beautiful wholeness. Great type and size. Good head and expression, OK neck. Great topline, good body, harmoniously angled. Good movements from the side, could be more stable to and from. Good fur, legs and feet.
2017-07-02
Borås
National
Intermediate
William Armstrong
Excellent, CK
2
Nice quality bitch. Lovely head, adequate neck into shoulders. Very nice topline and good underline. Good hindangles. Slightly close moving away today, true coming towards. Covered the ground in profile. Lots to like.
2017-06-18
Vårgårda
National
Intermediate
Felicity Thompson
Excellent
–
23 months old, pale brindle of nice size. Good skull but would prefer more stop and a little more reach of neck. Good depth of chest and spring of rib. Nicely developed hindquarters. Moves freely and soundly.
2017-06-17
Vårgårda
National
Intermediate
Tuula Plathan
Excellent, CK
4
A young bitch who is well put together. Correct shape of head and alert expression. Nice lines, good balance and effortless movement.
2017-06-05
Norrköping
International
Intermediate
Birgitta Svarstad
Excellent
–
Good type. Well shaped head and well set ears. Tight topline and well developed body. Well placed croup, good angulations, strong legs and good feet. Moves with good lenght of stride, parallel in front and back. Well presented.
2017-06-04
Norrköping
International
Intermediate
Nicklas Eriksson
Excellent, CK
2
Attractive bitch with beautiful lines. Somewhat short neck, good topline. Could be better angulated in the front. Good body, beautiful hindquarters and good bone. Moves well in the back and front. Could move more freely from the side.
2017-06-03
Norrköping
International
Intermediate
Bo Bengtson
Excellent
–
Feminine, very good proportions. Noble head, very good topline. Enough angulations and bone. Well presented.
2017-05-21
Hässleholm
International
Intermediate
Nenne Runsten
Excellent
–
Very appealing wholeness. Good head and expression, harmoniously angled. Good forechest and depth of chest. Nice neck and topline. Moves with low, long and correct strides.
2017-05-20
Hässleholm
National
Intermediate
Helen Wayman
Excellent
4
Good head but would like a little more stop. Good front and depth, very good topline. Good rear, short hocks. Good tail and carriage. Moves very well.
2017-04-30
Roskilde
International
Intermediate
Åge Gjetnes
Very good
3
Substancial bitch, a bit big, could be a bit more feminine. Good head but wish for somewhat bigger eyes and smaller ears. Beautiful, well-shaped neck, appealing topline and underline with enough depth of chest for her age. Doesn't have a forechest and would like better angulated upper arm. Well angulated hindquarters, appealing movement from the side and excellent muscle condition.
2017-04-29
Roskilde
International
Intermediate
Marie-Christine Delabelle
Excellent, CK
1
21 month old, beautiful type. Lovely bitch with lovely head and expression, ears well carried. Excellent body with a lot of substance. Excellent movement with a lot of drive, very sound.
2017-03-19
Malmö
International
Intermediate
Annica Uppström
Excellent, CK, R-CAC
1, BB-3
Bitch of beautiful wholeness. Beautiful, feminine head, beautiful neck and topline. Strong thighs, nice forechest and chest. Excellent angulations all around. Moves with well balanced and groundcovering steps.
2016-12-04
Stockholm
International
Junior
Liz Cartledge
Excellent
–
17 months, shapely youngster with good head and kind expression. Excellent reach of neck, fine coat and deep brisket; just right for body and condition. Well muscled, effortless mover. Handled to advantage.
2016-11-06
Herning
International
Junior
Roel van Veen-Keur
Excellent, CK
2
16 months, underweight, good in total shape. Nice head, strong underjaw, good bite, nice eyes and ears. Nice flat skull, good depth of chest and forechest. Well angulated, strong muscles, nice bone and feet. Moves well.
2016-11-05
Herning
International
Junior
Maria Marionka Dekaristou
Excellent, CK
4
Lovely head, correct outline and long neck. Nice topline, deep chest, good ribs and very nice angulations. Moves sound and freely, excellent presentation.
2016-09-11
Laröd
National
Junior
Trevor Hiscock
Excellent, CK
1, BOB junior, BB-3
I like the look of this bitch. She has lovely, clean lines with curves in all the right places and no exaggerations. Well-made head with lovely expression. Lovely, correct whippet topline and she moves with good reach and drive. Very pleasing.
2016-09-10
Eslöv
International
Junior
Magnus Hagstedt
Excellent, CK
2
Elegant and feminine. Particularly pleasing wholeness and outline. Beautiful head and expression, harmonious angulations. Curvy topline and underline. Stable, free movement. Could be a bit more animated when she moves. Well presented, excellent condition.
2016-07-09
Tvååker
National
Junior
Bitte Ahrens Primavera
Excellent, CK, CAC
1, BB-2
Very appealing bitch. Good size, beautiful head, somewhat light eyes. Correct bite, good neck, excellent front and rear angulation. Beautiful topline and underline. Moves parallel. Ground covering steps from the side.
2016-07-08
Tvååker
International
Junior
Gerard Jipping
Excellent
–
Almost 1 year. Very nice type with correct topline. Feminine head, parallel in front. Correct front and underline, angulation OK. Very nice movement, correct length of pass.
2016-05-21
Hässleholm
International
Junior
Maria-Luise Doppelreiter
Excellent, CK
1
Lovely bitch. Very well proportioned and well developed. Beautiful, typical head, excellent angulations. Moves well from all sides.
2016-05-14
Landskrona
National
Junior
Harold Tatro
Excellent, CK
2
Nice, curvy outline. Pretty head, could have a more defined stop. Clean neck into withers. Nice underline, slightly longer casts, sound movement in front and rear. A bit soft in muscle tone.
2016-04-30
Roskilde
International
Junior
Irina Poletaeva
Excellent, CK
1
9 months old, still very puppylike but very promising, feminine and well balanced. Correct head proportions, underjaw could be better developed, correct bite, typical topline, good chest for age. Well angulated, moves with good drive.
2016-04-09
Varberg
Unofficial
Junior
Theres Johansson
HP
1, BOB, BOG
Appealing, 9-month-old bitch. Beautiful, well-made head, correct bite and excellent ears. Enough angulation in upper arm, excellent depth of chest. Have a little forechest, strong back, excellent croup and knee angulation. Fitting bone, beautiful feet, moves nicely all around. Nice temperament.
2016-03-25
Slöinge
Unofficial
Puppy
Gunnar Furuvik
HP
1, BOB, BOG, BIS
Appealing bitch of good size. Long, well-made head with enough underjaw. Fitting eye colour, excellent neck and topline. Well-shaped chest, well angulated in front and back. Parallel in front and back, moves excellently from the side with maintained posture.
2016-03-19
Malmö
International
Puppy
Rainer Jacobs
HP
3
8 months. Very well developed bitch of excellent breed type. Very good, feminine head, correct ears and very good topline. Very good depth of chest, correct tail and angulations. Moves freely, already showing herself well.
2016-03-12
Laholm
Unofficial
Puppy
Anette Köster-Lind
HP
1, BOS
Feminine bitch of beautiful wholeness. Beautiful, well-shaped head, somewhat light eyes. Beautiful rose ears. Excellent neck and topline, promising angulations in front and back. Good depth of chest, moves with very harmonious movements.
2016-03-12
Hässleholm
Unofficial
Puppy
Jan Törnblom
–
2
Feminine bitch with appealing head and expression. Dark, good eyes and bite. Good neck, enough angulations in front and back. Good body, topline and underline. Could be a bit shorter in loin. Good croup and fitting bone, moves well from the side. Good coat and colour, nice temperament. Well presented.
2016-02-27
Sätila
Unofficial
Puppy
Johan Sandström
HP
2
Beautiful, feminine bitch of correct size. Beautiful head and tight, nice lips. Lovely neck and neck into shoulders. Straight, strong front. Strong pasterns, correct topline and strong hindquarters with lovely drive in movement. Moves effortlessly and freely, nice temperament.
2016-01-10
Göteborg
International
Puppy
Åke Cronander
HP
2
Very appealing wholeness. Feminine. Beautiful, well-made head, good neck, well-made front. Very nice substance for her age. Good topline, good angulations in the back, good legs and feet. Moves with a good stride from the side.